Flood Damages from Trees Too Close to Ortega Homes
12/14/2017 (Permalink)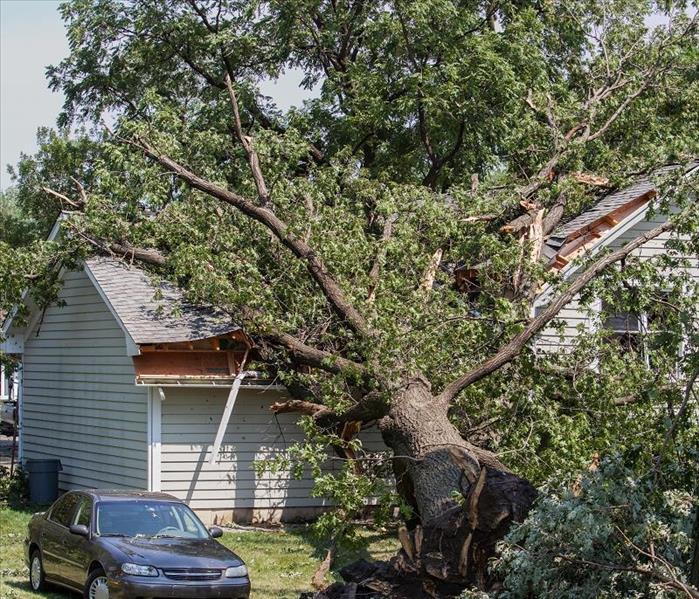 SERVPRO suggests keeping an eye on trees near your home for broken branches or dead limbs and take care of them before they damage your home.
SERVPRO Offers Flood Damage Restoration Services for Any Size Disaster
While you often think of trees as permanent fixtures in your property's landscape, their presence can also be an impending threat to your home if they die or become damaged during a storm. Subsequent hard storms could cause the tree to lose its limbs, or fall over entirely into your home. Ortega homes are at risk for those not paying close attention to damaged trees within striking distance of their residences.
This reality, of course, does not imply that you can prevent possible flood damage to your Ortega home by removing all of the trees on your property, but it does warrant pause for inspection given what could happen when a tree decides to fall apart. If you have ever attempted to pick up a full branch of a tree on your own, you immediately remember the excessive weight and size. Now imagine the damage that a falling branch like this could do to the siding or roof of your home if it were to fall off unexpectedly.
Our SERVPRO team has seen significant storm damages which have taken down both branches and trees alike. The resulting damage is often gaping holes through the siding and walls of your home, broken windows, or holes in your roof. Any one of these conditions could allow high volumes of torrential rainfall into your house, which is often far too complicated to stop on your own.
Damage assessment is one of the preliminary steps that our SERVPRO professionals take. This assessment allows our team to map out entire restoration plans based on not only preparing your home for possible reconstruction efforts but also to get any water-damaged areas of your house restored promptly. This process is often done in conjunction with your insurance company to hasten the restoration process and keep your out-of-pocket expenses in the process to a minimum.
Tree damage is often a significant culprit to water and flood damages to homes throughout Ortega. Inspect the trees and be on the lookout for dead limbs to remove them before they remove themselves at a costly expense to your home. For help cleaning up the mess quickly and efficiently, do not hesitate to give SERVPRO of Stockton a call. We can be reached 24/7 at (209) 477-3090.
For directions in the Ortega area, click here.